Shared Education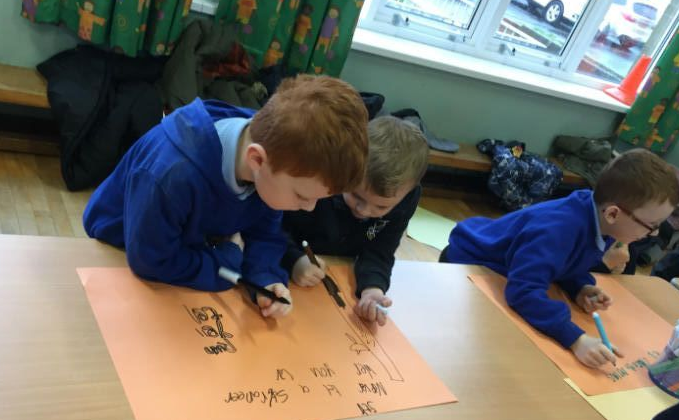 Sion Mills Primary and Nursery School is partnered in shared education with Strabane Controlled Primary School. Our partnership began in 2016 with teachers and pupils coming together to meet new people, develop new skills and explore our communities. Since that first year almost everyone, in both schools, has now had some experience of shared education.
Sharing in learning for success!
It is the vision of both schools that all pupils, from nursery to P7, will be successful in all their endevours. The coordinators hope that shared education can be a vehicle for raising standards as well as developing our thinking skills and personal capabilities.
Pupils and staff have commented positively on their experiences. Pupils have engaged with topics about water, deserts, churches, WWll, toys, Irish Famine and The Vikings to name but a few. They have also participated in sporting and drama events and visited various local places of interest and further afield. Staff have come together for various training opportunities to improve standards in their schools. Shared education has also allowed us to facilitate parent information evenings and share fundraising ideas through the PTAs. It is felt that both schools have developed a great working relationship sharing their respective skills, space, time and resources.
Currently all pupil to pupil activities are suspended due to Covid-19 but it is hoped that when we get through this we can all join together again and share our experiences.
Mrs Cunningham (Sion Mills) and Mrs Finlay (Strabane) are the coordinators for Shared Education. They welcome any comments, questions or suggestions.
Further information including a video on Shared education can be found on the Education Authority's (EA) website. Click on this link: https://www.eani.org.uk/parents/shared-education
Updates and photos of all Shared education activities can be viewed on class pages and in school newsletters.
20th Dec 2022
We had great fun with our new friends in Gortin Glens. Lynn the forest ranger told...
Sion Mills Primary School, West View Terrace, The Park, Sion Mills, Strabane BT82 9HP | Phone: 028 8165 8249